5 MINI-COURSES TO CHOOSE FROM
Enrich your knowledge about the biomechanics of Bowen, fascia & mechanobiology
Fascia and Bowen [Fundamentals]
We first ask the question: What are we touching?
Well, skin, muscles and fascia. Right and...wrong.  Knowing the fabric we work with, we stimulate and manipulate is essential. Bowen Therapy will makes so much more sense after.
In fundamentals module, we learn about fascia in relation to the Bowen technique. Instead of pouring over hundreds of fascia books, I have selected the key areas you need to know as a Bowen practitioner/student and conclude with the clinical relevance for you and your work. Essential knowledge. 
Watch video about Fascia & Bowen: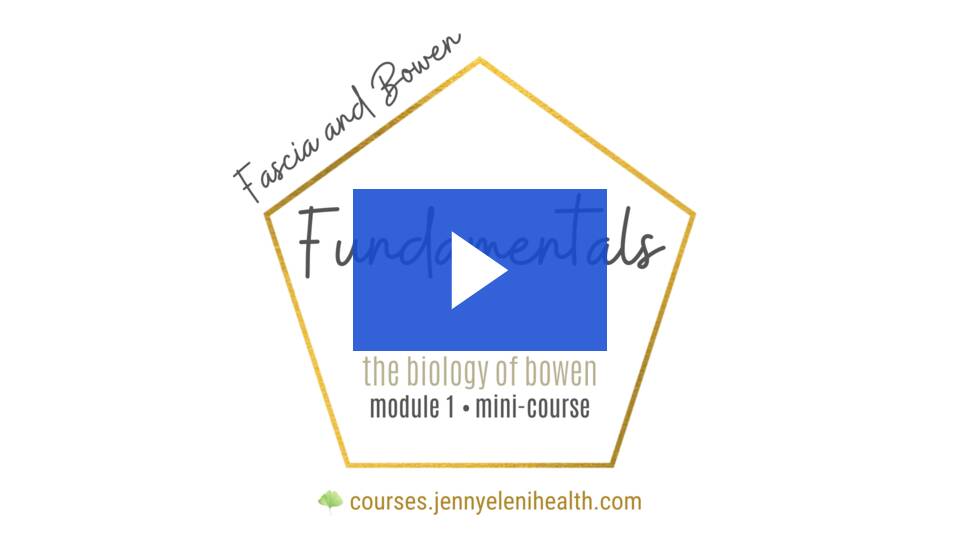 Mechanoreceptors and Bowen
Mechanostimulation of the sensory receptors...
One of the mechanisms that help to explain Bowen involve the sensory receptors. Some insights you may not have noticed before. We learn about the most relevant ones, such as the golgi receptors and how the Bowen therapist may adjust his/her touch for greater effect...This course is a must!
Autonomic Nervous System, Stress and Bowen
The autonomic nervous system does practically everything.
It is the CEO of the organism. Bowen Therapy's effect on it is profound. Wonder why?
In this mini-course we learn about three important aspects of fascia's interaction with the nervous system, and how Bowen Therapy fits in with this. The 3 topics are: The autonomic nervous system, stress, and fascia + myofibroblasts.
Mechanophysiology and Bowen
Let's start with mechanotransduction. What happens when force is exerted onto tissues?
I mean, at a cellular level? Biochemical changes. Does the Bowen move help transduce physiological changes in tissue? Yes. Now, we're talking. #transduction

Now, here we are naturally referring to external forces on tissue structures –because there are already innate internal forces going on. In this module we go quite a little deep(er). My favourite new area of soft tissue medicine is mechanobiology. Welcome!
The Electric network and Bowen
What is the piezoelectric phenomena and streaming potentials?
And how do electric field & mechanical stress (notably Bowen Therapy) influence tissue?
In this module we view the body as electric rather than 'just' mechanistic, and unravel the electro-mechanical processes in the fascial system and how therapeutic intervention may play a role. Adding further depth to what tissue load can and does do is integral to adding richness in understanding of our soft tissue work with Bowen.
Meet Jenny in this video ☟